MAWi – Release Notes
22:16 15 November
in
Blog
NEW 

MAWi v90.29
Updated: 27-Jan-2021
Introduction
MAWi allows users to push content onto multiple screens and video walls in the same or different sites, and control that content from a simple and easy to use browser-based dashboard.
MAWi is an on-premise solution and the multiple screens can be connected over the LAN, WAN, or over the Internet.
MAWi is a holistic connectivity solution for video walls and digital signage screens, allowing you to connect and control your screens in a variety of ways, including Android-based AVoIP players, HDMI over LAN zero clients, standalone Windows-based PCs and USB to HDMI adapters.
Our new release – includes the following new features, enhancements, and fixes detailed below.
Important note:
After updating to a new version of MAWi, please clean your browser's cache.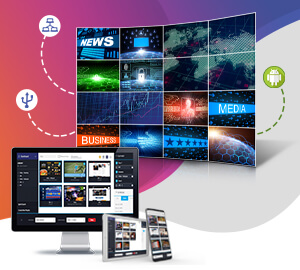 We would love to hear from you on new ideas to add to our product!
New features and enhancements
MAWi TC
MAWi TC is a new connectivity variant for the already very flexible and powerful MAWi platform.
MAWi TC is allowing our customers to connect Thin Clients as endpoints for their digital signage setup!.
With MAWi TC we are adding a new and very effective method of connecting and controlling remote screens by utilizing Thin Clients as endpoints. All you need is a thin client for each screen and a central Terminal Server and you will be able to show your content on local or remote screens.
Start evaluating MAWi TC with your thin clients – follow our Quick Installation Guide
Tags
Tags is a very helpful feature that many customers requested us to implement. It allows you to group multiple screens from different Locations in a single group, to push the same playlist on all screen in that group.
For instance, an enterprise with hundreds of screens in different locations can Tag all of the screens in the Cafeteria areas, and push the same announcements to all screens at once.
Start using the Tags:
1. Create a new Tag > Name it and select a color for it
2. Drag and Drop the tag on the screens you wish to have the same tag.
3. Press on the Toggle button to change the view according to the tags selection.
4. To remove screens from a tag, edit the tag or right-click on a specific screen.
Each screen can have an unlimited number of tags.
Backup and Restore
We've added a new administrative tool to the Admin panel, to allow you to backup your system, with or without your content files, and restore to any backup point at any given time.
1. The backup file is password protected and will be required when restoring. Please keep the password in a safe location.
2. When including the content in the backup file, it might take several minutes to finalize the process.
v90.29 – Released on 27.01.2020
Added two more view options.
Changed the UI for Local playlist items.
Fixed MAWPPT Launcher to work more reliably.
Fixed minor UI bugs
v90.17 – Released on 07.12.2020
Fixed an issue where Scheduling multiple MAWPPT items will not work and leave running instances.
Fixed the Playlist logic for better performance and utilization.
Fixed an issue with running Local Launchers.
Fixed Identify Screens logic.
Enhanced MAWi Client to maintain less memory and CPU usage.
Added better support for MAWChromeLauncher, to run better when switching between URLs.
v90.12 – Released on 18.11.2020
Fixed an issue where assigning a Local playlist to a screen will cause the dashboard to crash.
Fixed an issue in MAWi installer, not saving the Location set in the installation process.
Added a file type validation process when using the Backup and Restore feature.
Fixed an issue where Tags are showing empty items when screens have been disconnected.
v90.11 – Released on 16.11.2020
Fixed an issue MAWi Client Service – it will not run MAWi Client automatically.
Fixed an issue with scheduling a playlist for Thursday.
Fixed an issue when using special characters in the email field in the installation process.
Fixed an issue where the Client won't re-connect to the Server after login.
Fixed an issue where the Client won't show the assigned content if there is no connection to the Server.
Fixed an issue when installing the Client on x32 systems.
Fixed an issue with IIS Express, where the Indexing service of Windows would cause the C drive to fill up in a few days.