Monitors AnyWhere will showcase the new USB Wall at Infocomm 2017 in Orlando
Monitors AnyWhere are proud to present the USB Wall, the new revolutionary and innovative solution for a simple, cost-effective and easy to use video wall solution.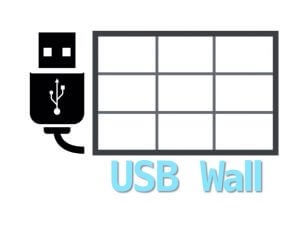 While video walls are becoming more popular, they have remained cumbersome to use and expensive. USB Wall is the perfect new solution! It allows small and medium business owners to easily implement a video wall for a variety of uses:
Large displays in meeting rooms for presentations or video conferences.
Big advertising or customer communication boards.
Displays at conference centers.
Or simply for creating larger screens for a better viewing experience.
The USB Wall combines an easy-to-use tool with cheap off-the-shelf USB to HDMI/VGA/DVI converters, allowing users to build a simple yet high quality video wall for an unprecedented low cost.
The content can be displayed from any Windows® laptop or PC with any HDMI, VGA or DVI monitor of every size and make.
The screens may be positioned in portrait or landscape mode, and can be rotated by 180 degrees.
The USB Wall supports multi-zones. It may be divided into different zones, each consisting of one or more screens, showing different content.
Other features include bezel compensation and cloning of the PC's main screen onto the video wall.
Installation is simple – connect each screen with a USB adapter, connect the USB cable to the PC or laptop (using a USB hub if needed), install our software and your video wall is ready!
Main advantages of the USB Wall:
Create a video wall in just a few minutes.
Uses cheap USB converters instead of expensive video cards or multi-monitor graphic boxes.
Create a stretched desktop with a resolution of up to 8K.
Display an application on each monitor or span one application across multiple screens.
Use your laptop to push content onto an array of screens.
The software Includes bezel compensation.
Monitors AnyWhere will be showing off this technology during all three days of the show and will be located in the Digital Signage Pavilion, Booth 780.