Monitors AnyWhere are very proud to announce MAWi TC – a new connectivity variant for the already very flexible and powerful MAWi platform. MAWi TC is allowing our customers to connect Thin Clients as endpoints for their digital signage setup!.
MAWi is a holistic connectivity solution for video walls and digital signage screens, allowing you to connect and control your screens in a variety of ways, including Android-based AVoIP players, HDMI over LAN zero clients, standalone Windows-based PCs and USB to HDMI adapters.
The screens can be used in different scenarios:
Command and control rooms and Operation centers, Retail stores, Industrial facilities, Manufacturing lines, and Logistics centers, Internal communications in enterprises and others…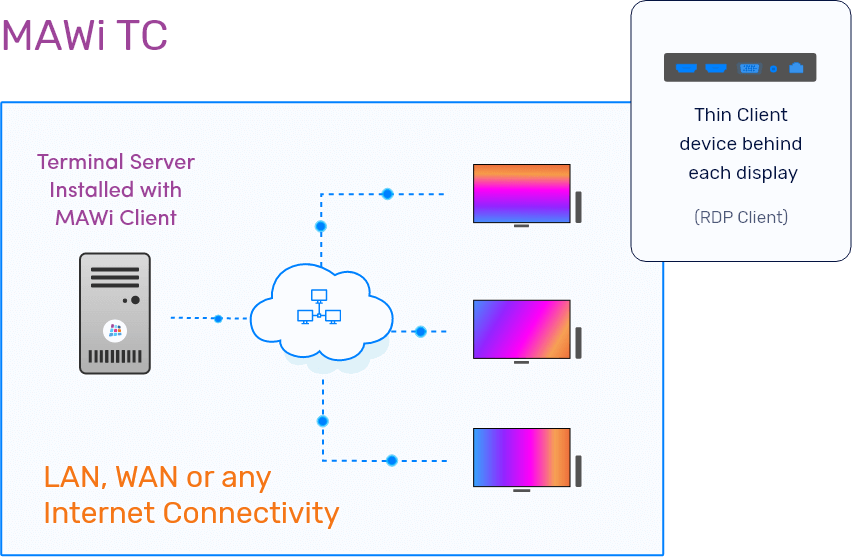 With MAWi TC we are adding a new and very effective method of connecting and controlling remote screens by utilizing Thin Clients as endpoints. All you need is a thin client for each screen and a central Terminal Server and you will be able to show your content on local or remote screens.
Do you already own thin clients?
follow our Quick Installation Guide to evaluate MAWi TC
The main advantages of this new variant:
1. It offers a PC-less configuration.
2. Wifi, Audio, and 4K resolution are supported (provided your thin clients support that).
Just like the other MAWi variants, MAWI TC  empowers the users to control and push content to the various screens through the MAWi dashboard, using any browser, on any platform, from any location.
Read about all the new features and updates in MAWi Release Notes